Custom Framing of Wall Decor
California Warehouse Store Only - Not Available On Line
We Are The Destination For Value Price Custom Framing Of Art And Objects.
We will help you design your own picture frame. Choose from hundreds of frame options to select the size, style color price.
We have a large family friendly warehouse store and located very near the intersection of the 5 and 405 In Central Orange County
We can frame anything and have been framing in Southern California since 2001.
We have framed art for the walls of an entire health care facility, a 75 year old Boy Scout pocket knife, a rare butterfly collection, a grand daughters hand print on kindergarten construction paper, a great grandmothers wedding dress, museum framing for an original one of a kind Picasso, a # 1 Consumer Reports article for each regional office of a national company and the painting for the proud parents of an 11-year old artist.
We are confident we can frame anything for you as well. We are open to the public and frame items one at a time.
We look forward to helping you find the right picture frame to fit your art or object and your budget.
Custom Framed Art - Any Style - Any Size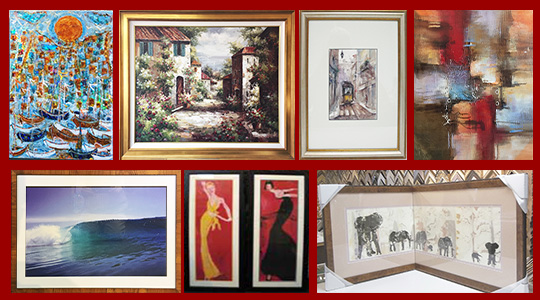 We frame art - any style any size - giclee on canvas or fine art paper, oil paintings, acrylic, water color, gouache, lithograph, pastel, ink and charcoal, tempera, serigraph, mixed media, print and posters, photographs and and of course kindergarten construction paper.
Framed Sports Jerseys And Memorabilia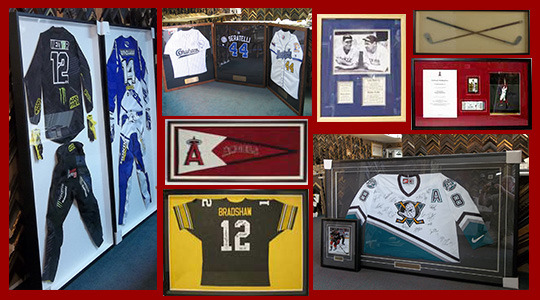 We frame sports jerseys and memorabilia for local professional and amateur athletes as well as sports fans throughout southern California. We frame sports equipmnet, hole in one memories, pennants, balls, shoes, bats, apparel, score cards newspaper articles and photo's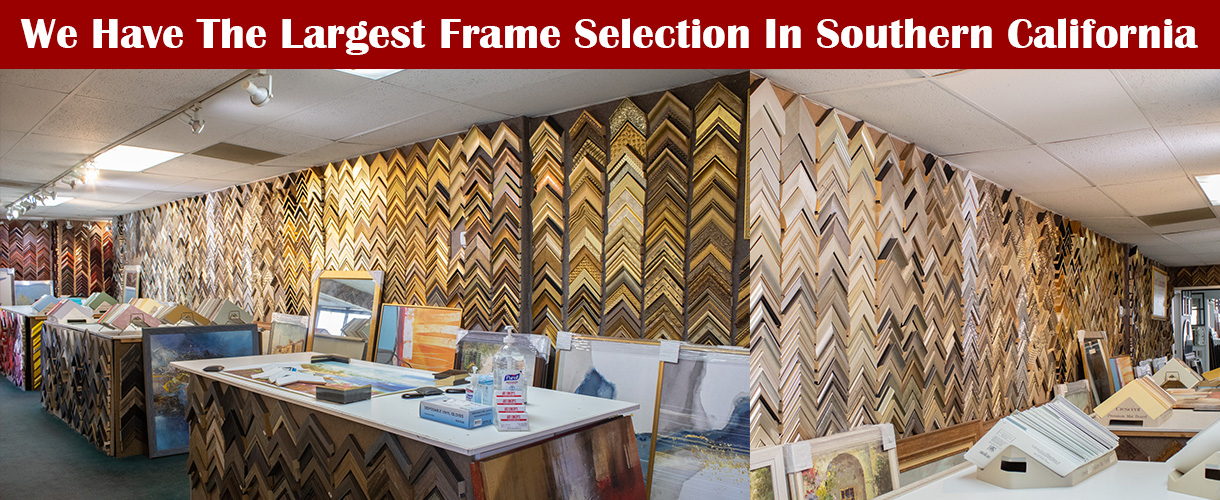 We have thousands of frame options. Shop our large assortment to find just the right picture frame molding to showcase your custom item.
We are easy to reach from anywhere in Southern California.
Contact Us with any questions about your custom framing options.
Monday - Friday: 9 - 6
Saturday: 9 - 4
Sunday: Closed
Customer Framers With Over 100 Years Experience
Our professional picture framing staff has over 100 years of combined experience.
They will know how to frame your project because they framed many similar projects before.
---
Value Price Custom Framing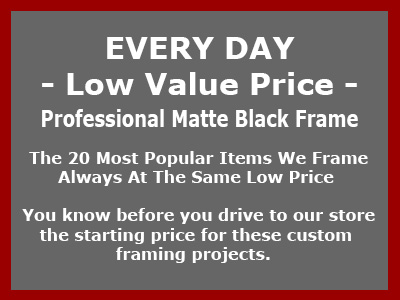 We Offer Value Price Framing - Open to the public and located in central Orange County. We offer thousands of framing options, hundreds of colorful mats and liners, and glass to fit your custom requirements. We frame items in all price ranges from inexpensive prints with budget price frames to high value one of a kind collectors art pieces - framed perfectly with conservation framing.
Prints and Posters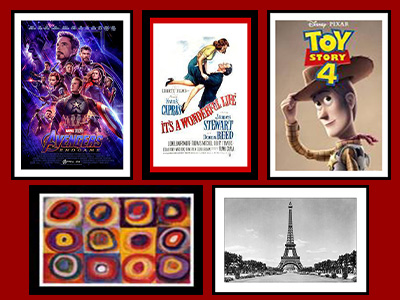 We frame prints and posters of any size and on every quality of paper. Small novelty prints to antique vintage prints. Simple to intricate framing options. Choose the mat and glass options to fit your art and budget. See our current special offer for framing prints and posters.
---
Custom Framed Diplomas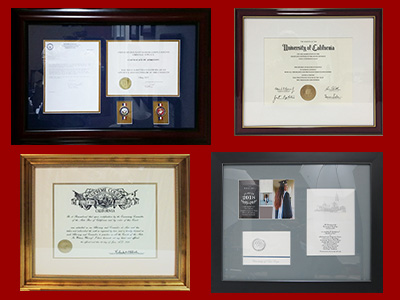 We Frame diplomas: We offer a wide range of framing options for diplomas, special documents and professional papers. Choose a simple mat and frame – or select from hundreds of options to present your special documents in a beautiful picture frame that you can enjoy as it protects your special framed paper or certificate.
Custom Framed Flags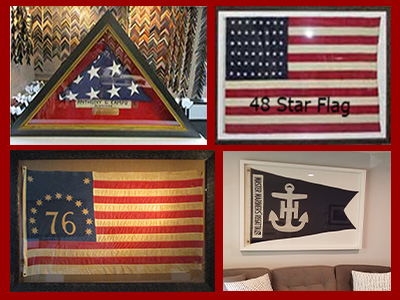 We frame flags of any kind and shape including a very old and very large 32 star civil war flag. We make custom triangle flag boxes for military flags - flags for schools, clubs and organizations, sports teams, nautical flags, and flags with memories of vacation travel. We offer a professional value priced matte black value price frame that can be use for any type of flag. Of course me have hundreds of options to create just the right look for your personal flag.
Custom Framing For Objects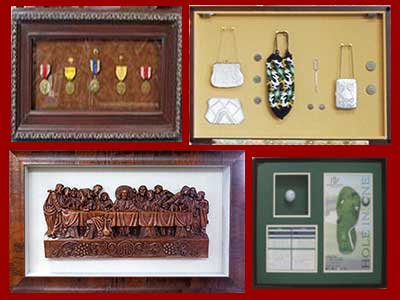 We Frame Objects - very small and very large. We have framed a hole in 1 golf ball, military metals, vinyl records, valuable souvenir plates, sculpture, decorative wood, firearms and knives, and hundreds of other valuable or sentimental objects.
We Welcome Custom Framing Projects Of Any Size
We like one item frame projects from individuals, and work with corporate clients and designers throughout Southern California to create large complex custom framing orders. A very large portion of our work comes from repeat customers or referrals of friends and family.
Custom Framed Mirrors Any Size Any Room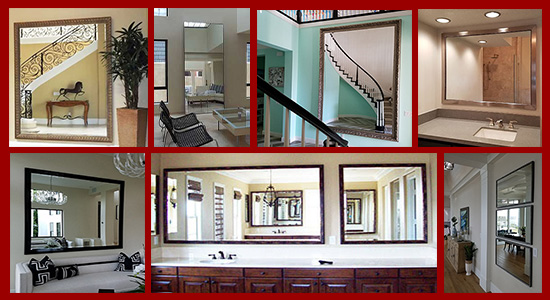 We Frame Mirrors: We fabricate custom mirrors in any size for any room from hundreds of frame options - Learn More About Our Custom Mirrors.
Ready Made Mirrors: We also offer hundreds of ready made mirrors in our warehouse store - take one home today - Learn More About Our Ready Made Mirrors
Custom Framed Shadow Boxes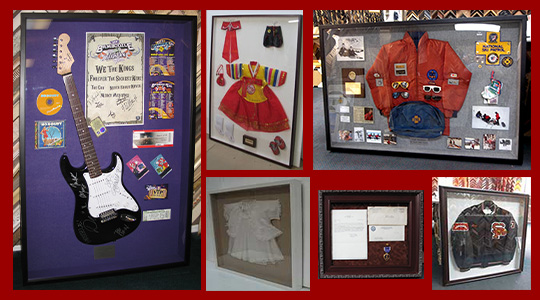 We Frame Shadow Boxes for apparel and objects. We frame wedding dresses, christening dresses, clothing worn for special days or events. We have framed hundreds of sports jerseys, sports memorabilia, autographs & signed items from NFL, NBA, MLB, military metals and memories of special events and personal experiences. If you are thinking of creating a shadow box, we can help.
Framed Textile Rugs Garments And Apparel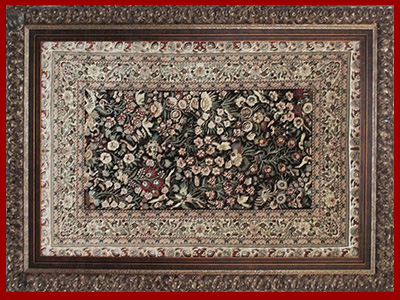 We Frame Textiles And Rugs
We frame textiles and rugs from all over the world. We know how to professionally mount and preserve textiles and garments. Many imported rugs have attractive fringe - that looks great on the floor but awkward in a picture frame. We can frame decorative rugs without showing - but still protecting the fringe.
Framed Letters Documents And Maps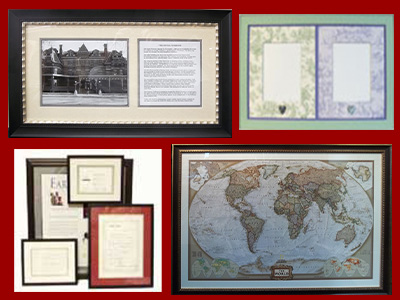 We Frame Letters Documents And Maps.
Our document framing service varies greatly with our customers requirements. Some clients are looking for a cheap picture frame with an attractive and professional look. At other times clients require a mounting solution that will preserve the document for years. Our frame selection - and professional framing skill allows us the ability to offer both options.
Framing Old Documents
And Art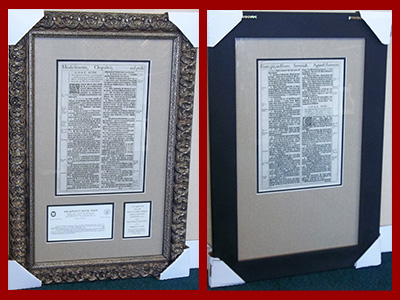 We offer conservation framing with acid free applications and premium glazing to frame special items of any size with sentimental or monetary value. We professionally mount and preserve documents and art purchased world wide. For example old papyrus and rice paper have special mounting characteristics - we can help you frame them just the right way for lasting beauty. We have experience with framing very old documents.
We offer an extensive selection of picture frames moulding samples.
Find the perfect frame for your picture. Choose from very low price to very expensive picture frame samples. We offer a wide selection of picture frame colors including espresso, walnut, cherry, mahogany, natural, oak, gold, silver, champagne, bronze, pewter, black, white, red, green, blue and so much more. Explore frame widths from 1/2 inch wide to our compound frames of 10 inches or more. Our walls are full of a wide range of picture framing styles including modern and contemporary, ornate, baroque, distressed, reclaimed barn wood, traditional wooden frames, high gloss and decorative frames in unusual finishes. When you need an picture frame with an exact match to your decor - we offer over 10 styles of unfinished picture frame styles - do it yourself - DIY - that can be painted or stained to your match or coordinate with your color.
Multiple Item Picture Framing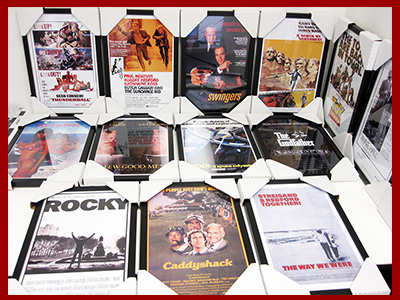 We Frame Multiple Art Units
Need art for a home media room? - Office art for a building with many walls and rooms? - Matching art for you 3 grandchildren? We can help. For example a common top mat and picture frame with a bottom mat that pulls a color from each image is an attractive yet inexpensive way to frame multiple items.
We Frame Creative Ideas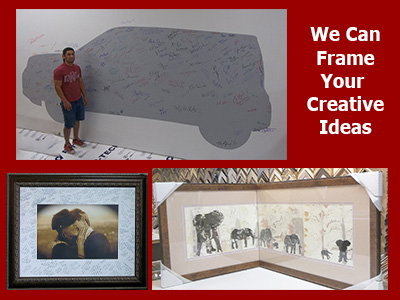 We frame your creative ideas.
We enjoy unusual picture frame challenges. Our professional picture framers have years of experience and know how to present unusual objects and pieces of art. When accepting a special project - we often ask the custom framer who will be doing the work to discuss the project with our client in our showroom. That way our framer and client know exactly what the finished product will look like. We guarantee 100% satisfaction on every custom framing project.
Commercial Production Framing"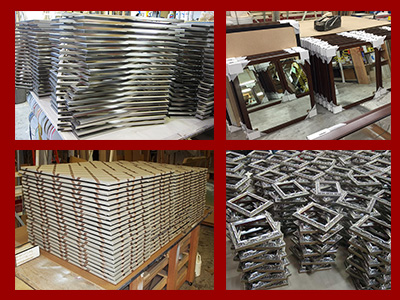 We offer Production Framing
Our corporate and hospitality art division creates custom wall decor for business clients throughout the country. We work with large fortune 500 companies and a small business of any size. We have the ability to ship to one location or distribution center - or drop ship to hundreds of individual stores or branch offices.
Learn More About Our Corporate and Hospitality Production Framing.
Custom Cork Boards - Chalkboards - White Boards- Combination Boards
Custom Framed Wall boards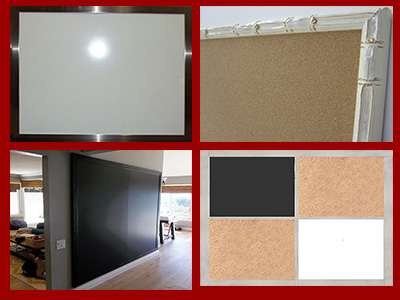 Learn more about our:
Custom Chalkboards
Custom Cork Bulletin BoardsBoards
Custom Dry Erase Boards

Combination Boards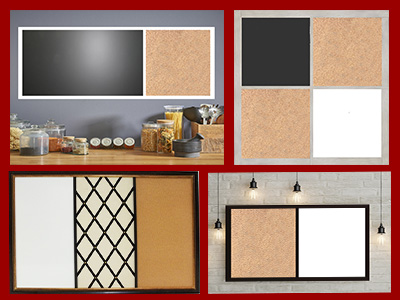 We Frame Combination Boards
We can fabricate custom combination boards by combining elements to make custom wallboards that are unique to fit your requirements.
Learn more about our combination boards
Fabric Wrapped Cork Boards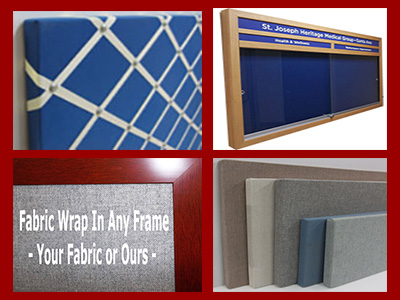 We Frame Fabric Wrapped Cork Boards
We can use your fabric or our special fabric to create framed or frameless fabric wrapped cork bulletin boards of any size.
Personalized Custom Framing Products
Personalized Custom Framing - Your Name or Logo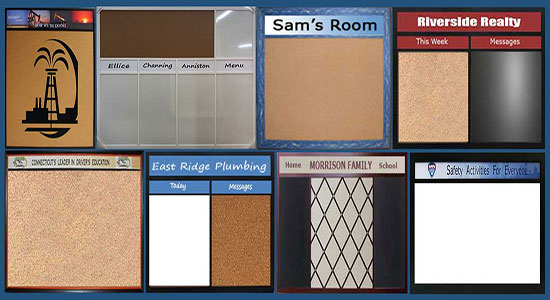 We frame Personalized Wall Decor
We use your text, logo and images to create personalized wall decor for your home church, school or business.
Information Safety and Planning Boards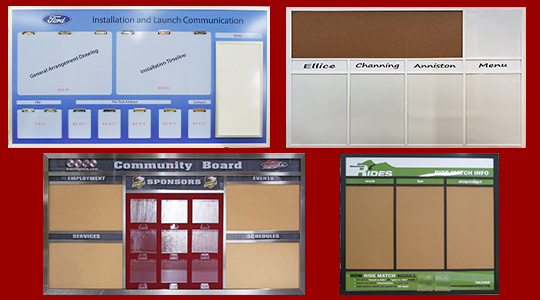 We Frame Information Safety and Planning Boards We fabricate unique wallboards to fit the clients specific need. These boards can be used as a home or office information center.
We Are A Full Line Custom Framing Company
Our custom framing includes: Picture frames, ready made picture frames, custom picture frames, custom picture framing, custom canvas transfers, wood picture frames, metal picture frames, discount picture frames, cheap frames, custom frames, discount frames, matting, mat boards, custom mirrors, custom metal picture frame, gold picture frames, silver picture frames, 5 x 7, 8 x 10, 12 x 16, 16 x 20, 20 x 24, 24 x 30, 24 x 36, 30 x 40, 36 x 48, picture frames, wall picture frames, poster frames, photo frames, custom matting, photo matting, diploma frames, frames for photos, home frames, home decor, wall decor, decorative, work frames, school frames, wholesale picture frames, scrapbook frames, certificate frames, large picture frames, small picture frames, Plexiglas, photo frames, flag cases, flat triangle, military flags, ready made picture frames, shadow boxes, conservation framing, conservation frames, linen liners, frame fillets, picture frame moulding. picture frame molding, oil painting picture frames, canvas stretching, dry mount picture frames, dry mount, museum framing, museum glass, non glare glass, conservation glass, canvas transfer with brush strokes, Roma, Max, Universal, Larson Juhl, Designer, AMPF, Studio